Meet The Staff
Call us: (718) 584-5300
We pride ourselves on making our patients feel at home in our office. We put your needs first to achieve a rewarding dental experience. All our team members are experienced and highly skilled. We try to stay up to date with the latest in dental technology by regularly attending continuing education courses and seminars.
Office Manager
Nancy Arzola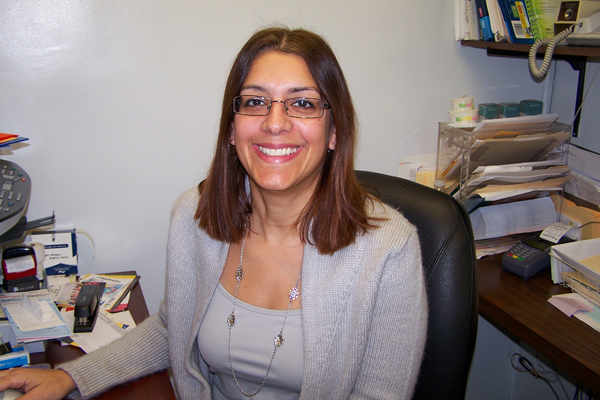 Nancy has worked with Dr Safferstein for over 25 years. Nancy coordinates all aspects of your dental experience. Nancy is an expert at maximizing your insurance benefits and helping to create comfortable financial arrangements. She is always available to answer any questions you may have regarding your dental treatment.
Nancy leads a hectic life with her husband, 4 children and many pets. She is active in her church and community. You can often find her cheering loudly on the sidelines at one of her kids many sporting events.

Dental Hygienist
Ivianie Exinor RDH,MPH
Ivianie has the unique ability of making your dental experience totally enjoyable. Her strong academic foundation and substantial experience enables her to establish a trusting relationship with her patients, especially those apprehensive about dental care. After earning her AAS in dental hygiene at Hostos Community College Ivianie earned a BS in biology at Pace University and then a Masters in Public Health at Lehman College.
Ivianie is committed to public service. She has implemented community based oral health programs as part of addressing the dental needs of low income students and retirees in East New York and Far Rockaway. Ivianie has travelled to Haiti three times to provide dental care in Port-au-Prince and Cayes. Ivianie is also an adjunct clinical instructor in dental hygiene at Hostos Community College.

Dental Assistant
Melissa Carter
Melissa has been Dr Safferstein's chairside assistant for over 25 years. Patients appreciate her warm smile and engaging sense of humor. She has a knack of calming the fears in any apprehensive patient.
Melissa is highly skilled at all aspects of dentistry. She is responsible for learning and implementing our latest technologies such as digital radiography, soft tissue laser and intraoral cameras. She is also in charge of ensuring that our office adheres to the strictest infection control procedures.

Dental Hygienist
Beverly Fisher RDH,MPH
Beverly has been practicing Dental Hygiene for over 16 years. During this time she has earned her B.S and Master of Public Health degrees. Beverly has been exposed to a variety of clinical experiences while working at Mt Sinai Hospital and Columbia University.
Beverly's greatest satisfaction comes while helping others, which is why she has chosen a career in dental hygiene. Beverly also enjoys the outdoors, wild life, reading and traveling.